Learn how to raise a claim if you're not satisfied with your order
While we aim to provide a smooth and seamless wholesale shopping experience, we understand that things may not always go as planned, so we want to make submitting a claim as easy as possible for you.
If you do find that all or part of your order has not arrived as expected, you will have the option to make a claim for your order.
To begin the claims process, please follow these steps:
Visit your "Orders" section in your account and select the relevant order.
Scroll down to "Sellers & Shipments" and choose the sale you would like to raise a claim for.
Click on "Make a Claim" underneath the shipment information and follow the instructions below.

Step 1 - Start a New Claim
After choosing the correct seller, you will be able to search for and add the affected GTINs for that shipment. Using the search field below the seller name, start typing the product name or number to find the items you need. Add all the items that you need to raise a claim for.
You will only be able to raise a claim after all shipments for the seller have arrived, as you can only raise one claim per seller. However, if you need to raise multiple claim reasons for the same GTIN, you can add the item as many times as necessary.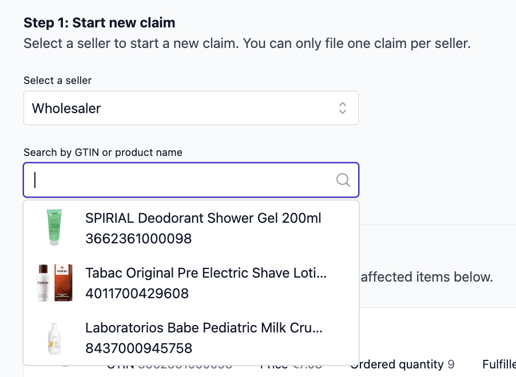 Step 2 - Enter the Quantity of Affected Items
Once you have selected the items for which you need to raise a claim, you will be asked to choose the reason for the claim from the drop-down menu provided. This menu will contain different options to specify the nature of the issue you are experiencing. After selecting the appropriate reason, you will then need to enter the affected quantity of the item.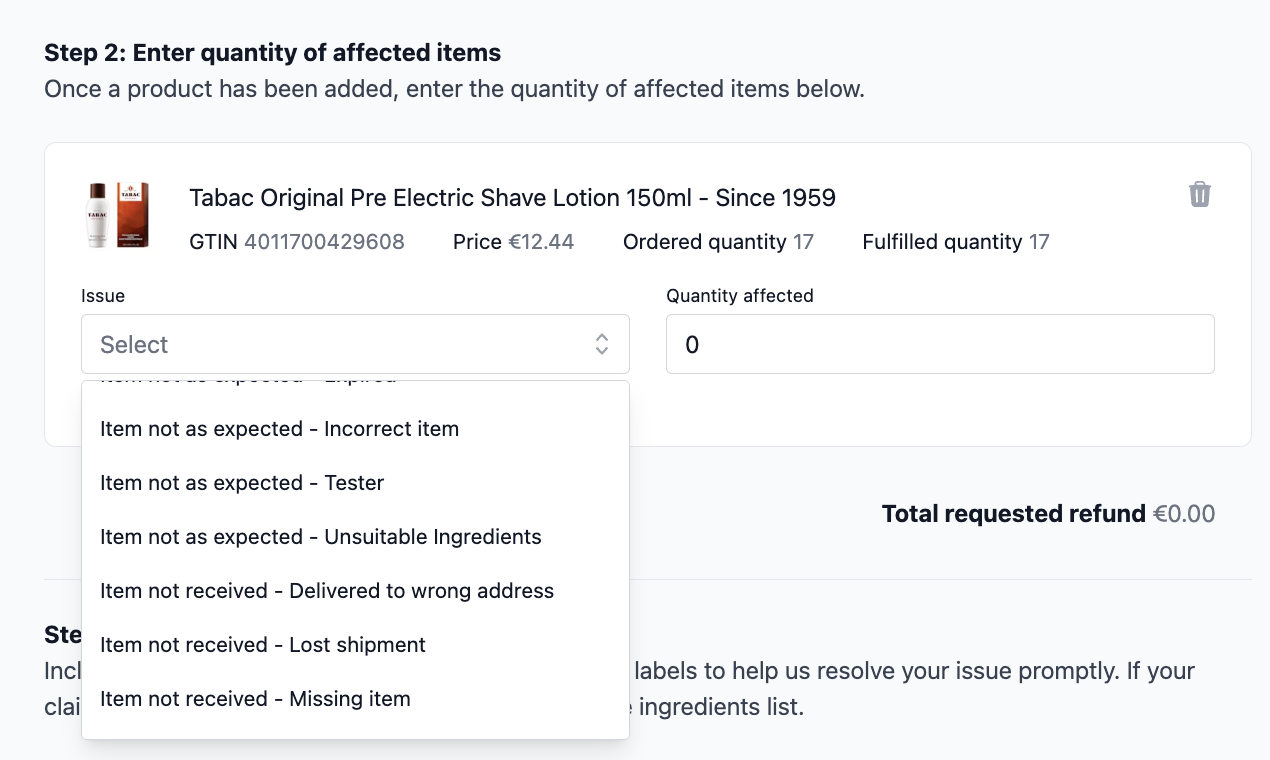 Make sure to include all claims reasons, even if two different issues affect the same GTIN, by adding the product twice.
Step 3 - Upload Evidence
In order to process a claim, we require you to add evidence of the issue. Without providing evidence, we may be unable to accept your claim, and you may risk it being invalidated. Claims with clear evidence tend to be processed faster, so we recommend you add as much evidence as possible to demonstrate the issue and avoid delays in your claim resolution.
As guidance, please see what evidence we ask for:
Item(s) not as expected

Photos of the shipping package (internal and external - images must include all shipping labels, and all labels must be legible)
Photos of affected items (images must include EANs)

Item(s) not received

Photos of the shipping package(s) and label (internal and external - images must include all shipping labels, and all labels must be legible)
Step 4: Additional Notes (optional)
Sometimes the issue may not be fully encapsulated by the evidence or options available, so we allow you the opportunity to add any extra notes to support your claim. If there's something important that may not be obvious from the evidence alone, it's helpful to include an explanation here. This way, we can speed up the claims process and get things sorted more quickly.
Step 5: Submit Claim
If you're happy that all information added to your claim is correct, and all necessary evidence has been provided, you can confirm your claim by clicking the 'Submit claim' button.
What Happens After I Submit My Claim?
After we receive your claim and supporting evidence, our claims process typically takes around 5 to 10 business days as we raise a claim with our sellers and mediate on your behalf.
If we need any additional information or something is unclear, we'll contact you to clarify as part of our review process.
We'll do our best to process your claim in a timely manner, however, there may be situations where it takes us a little longer to complete our investigation. We will always keep you updated throughout the process, and we are happy to respond to any questions you may have while your claim is ongoing.
Once your claim has been approved, you will receive a refund directly to your cash wallet, where you can then withdraw the funds to your bank account, and a credit note will be added to your order summary that you can download for your records.